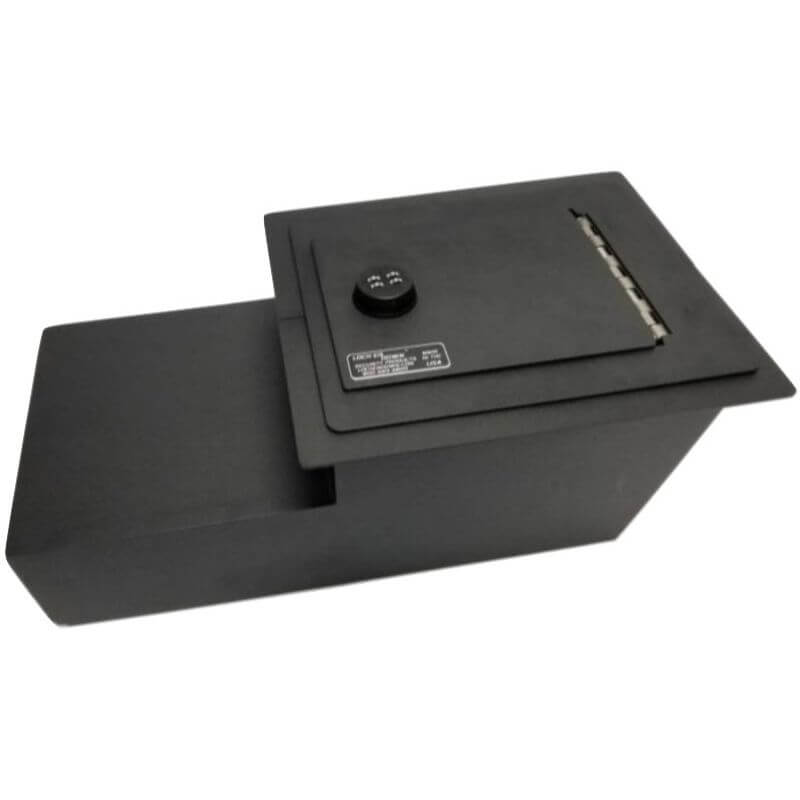 Locker Down (LD2004EX) Exxtreme Console Safe 1973 - 1991 Chevrolet K5 Blazer, Suburban & GMC K5 Jimmy, Suburban
Usually Ships in: 1 to 5 Business Days. *ETA to USA Only
* Estimate to the 48 Contiguous USA States Only
Product Description
Specifications
Product Warranty
Our Price Match Policy
Shipping & Returns Policy
Reviews
Locker Down Vehicle Console Safe for Chevrolet (K5 Blazer, Suburban) and GMC (K5 Jimmy, Suburban) provides reasonably-priced, discreet and high security storage of your firearms and valuables inside your truck/SUV. Gone are the days of leaving your valuables unprotected in the glove-box. Locker Down has created a reasonably-priced, highly-durable vehicle console safe made with domestically-sourced materials. Protect yourself against the classic "smash and grab".
Vehicle Fit
---
Locker Down Vehicle Safes were made and designed by Texans with the highest standards for durability, security, sleekness, and fit. They were designed to be high quality products at a reasonable price touted for their near-perfect fit. This model fits the following:
Chevrolet K5 Blazer (1973-1991)
Chevrolet Suburban (1973-1991)
GMC K5 Jimmy (1973-1991)
GMC Suburban (1973-1991)
With so many requests, we have designed a safe to fit the long running designed full size GM SUV. Made of 12 gauge steel, it is a great storage item.
Security Features
---
12-Gauge, Cold Rolled Plate Steel Ensuring Strength & A Smooth, Cleaner Finish -- Made of 12-Gauge cold rolled plate steel ensures incredible strength while also a smooth & perfect surface finish. The cold-rolled process allows for more precise shapes which then allow for a better console safe fit in your vehicle.
Domestically-Sourced Steel (USA) -- Locker Down prides themselves on creating products using materials sourced from none-other than the USA.
Additional Welded 10-Gauge Plate Skeletonized to the Door for Added Strength Against Pry-Attacks (Exxtreme Model) -- A superior addition to strengthen the door and provide extra protection against pry-attacks by providing covering along the front and side gaps to resist prying along the gaps.
Welded Tab & Notch Seems Ensures Added Strength -- Welded tab & notch seems provides additional protection against attacks by adding additional strength to the console safe unit.
Superior 3-Point Locking System Guards Against Prying -- A 3-point locking system enables the top and bottom of the lid to be simultaneously secured in multiple places thereby guarding against pry-attacks.
Lock Features
---
Drill-Resistant Locks Protects Against Drill Attacks -- Worried about drill-attacks to the lock? Don't be. The superior anti-drill lock that comes with this safe prevents the internal mechanism by snapping open or being penetrated even with high pressure drilling.
Largest Selection of Lock Options in the Industry -- No need to be stuck with a "standard lock" that does not fit your needs. Locker Down gives customers the option to choose from a variety of different lock options.
---
See Below for Information on the Different Lock Types
---
7 Sided Tubular Cam Locks (Standard, No Upcharge) -- These cam locks feature 7 irregular sides on both the key and spindle apparatus thus increasing the level of security beyond the standard regular round tubular locks. Additionally, this 7-sided tubular cam lock comes a ball-bearing in the center to protect against drill-attacks.
4 Digit Combination CAM Lock (Standard, No Upcharge) -- Locker Down cares about their customers which is why there is no upcharge for this option. Contrast that to most other competitors who upcharge $35 on this type of lock.
Abloy High Security Lock -- When you get an Abloy lock you are getting a lock from one of the most reputable high security lock manufacturers in the world. The keyway is patented and thus cannot be duplicated by any local locksmith. (note: If you need a duplicate key, you must contact Locker Down with your key code in order to get a duplicate)
Locker Down Electronic Lock -- A sleek and stylish touchpad electronic lock that can house a code up to 15 digits long.
Access Features
---
Counter-Balanced Door & Spring-Assisted Hinges Allows for Easy, No-Effort Opening -- Quick and snappy doors allows for quick and easy access. The counter-balanced door with spring-assisted hinges allows for the door to quickly snap open upon unlocking.
Assembly Features
---
Easy 10-Minute Installation – Installation is very fast and easy with straightforward instructions.
Installation: Secures to Factory Console Bolt Holes
Lifetime Warranty
---
Locker Down creates the only products in their industry with a lifetime warranty because they stand behind their products always.