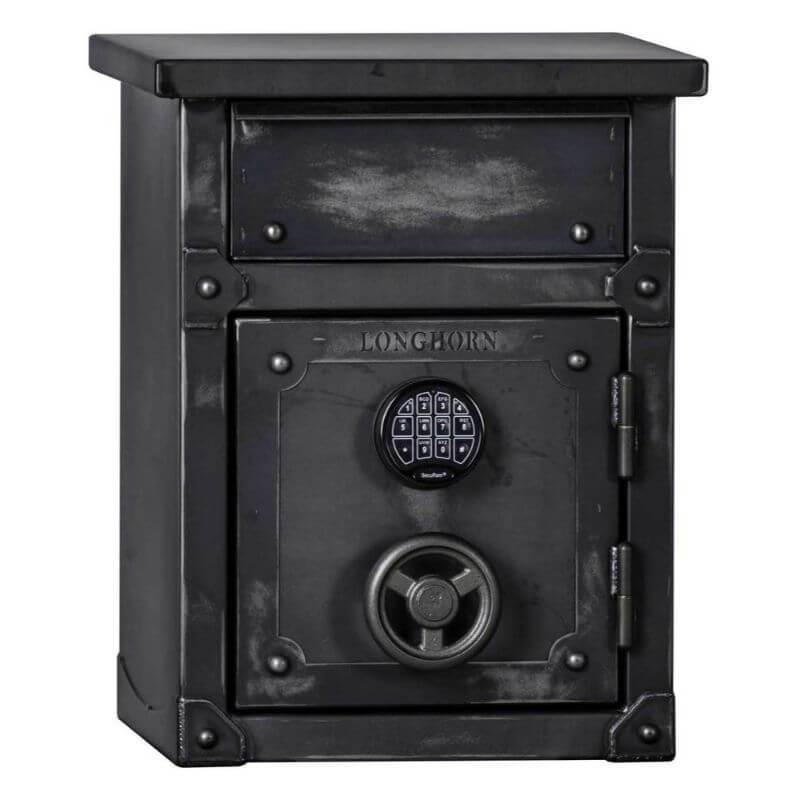 Rhino Longhorn LNS2618 | Security Safe / End Table / Nightstand
Usually Ships in: 7 to 14 Business Days. *ETA to USA Only
Dimensions:
26" H x 20" W x 18" D
* Estimate to the 48 Contiguous USA States Only
Product Description
Specifications
Product Warranty
Our Price Match Policy
Shipping & Returns Policy
Reviews
Rhino's LNS2618 Longhorn Security Safe/End Table/Nightstand is designed to be America's highest quality safe you can find on the market. It offers premium exterior and interior finishes and built with heavy-gauge construction that beats any other brands in the market. Check out the full list of features below:
Security Features
---
Experience One of the Strongest & Most Secure Safes with a Thick Composite Door & 14-Gauge Steel Construction

 

- Built with a thick composite door and 14-gauge Steel construction all around. This means that this safe is an absolute tank! It would be very difficult to find a stronger & more secure safe at this price point.
Prevent Drill Or Punch Attacks with (4) Anti-Punch & Anti-Drill Door-Bolt Mechanism (1" Diameter) -- The interior bolt mechanism has been designed to a much higher security standard making it very difficult for burglars to use drills or punch rods to break into the safe.
UL Listed SecuRam Electronic Lock 
Security Certifications

Meets and exceeds California DOJ Acceptable Gun Safe Standards.

Fire Protection
---
40 Minute Fire-Resistance @ 1400 F -- The interior of your safe will maintain a safe temperature that will not damage your guns or other accessories even if exposed to 1400 F fire for 40 minutes.
Keep Our Heat & Smoke with Heat-Activated Door Seal:

Provides maximum protection for the contents of your safe. The door seals can expand up to 7x in size when it reacts with heat, thereby sealing the door edges to keep out heat and smoke.
Keep Heat Out with Full Coverage Fire Lining Door Frame: Unlikes most safes out there, Rhino's nightstand safe comes with a fire-lining on the door frame to give added protection against intense heat.
Style & Function
---
Enough Room For Your Most Important Valuables with 1.05 Cu. Ft. Interior Capacity - With the shelf and the secure safe interior, you will get a 1.05 Cu. Ft. of interior capacity. This is perfect for storing important documents, electronics, jewelry or other small valuables.
Drawer dimensions: 5"H x 13"W x 13"D
Internal Safe Dimensions: 15.4"H x 15.5"W x 7.5"D
Smooth Open & Close with 200Lbs Capacity Ball-Bearing Slides: 

The drawers in this safe open and close oh-so-smoothly and are equipped with heavy-duty ball-bearing slides to make it last a long time.
Handgun Holder on the Back of Door: The handgun holder on the back of the door allows you to store and access your handgun very quickly.
Get Easy Access to Your Valuable with Full 180° Door Opening - With Rhino's external hinge system, you can open your safe's door a full 180 degrees to get easy access to all your belongings.
Customize Your Safe's Interior with Adjustable Shelf: 

The shelf in the safe is vertically adjustable, meaning that you can customize your safe's interior to match and maximize your storage needs. 
Beautiful & Functional Cast Iron Handwheel 

- Is not only beautiful to look at, but it is designed to make it effortless to open & close your safe door.
Protect Your Valuables from Scratches with Fully Upholstered Interiors -- A distressed leatherette gives a lavish interior look while also protecting your guns and other belongings.
USB Outlet is Installed on the Back
Item color and trim may vary slightly from image.
---