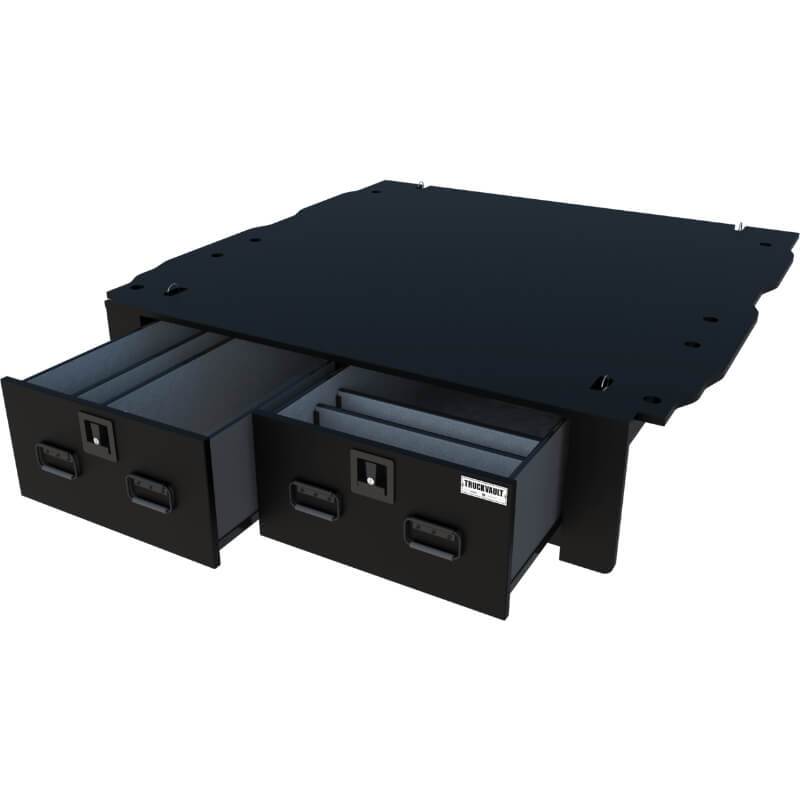 Truckvault for Toyota Tacoma Pickup (2 Drawers) - All Weather Version
Usually Ships in: All TruckVaults are Custom-Made-to-Order. Will ship Between 3 to 5 weeks. *ETA to USA Only
* Estimate to the 48 Contiguous USA States Only
Product Description
Specifications
Reviews
Truck Vault's In-Vehicle Security Storage Solutions for Toyota Tacoma Pickup is the perfect equipment organization and safety storage solution for storing firearms, hunting, fishing, and sports gear. As the world leaders of in-vehicle security storage solutions, it's no wonder they are loved by sportsmen, law enforcement personnel, the military and residential tradesmen since 1995.
Truck Vault's top priority is providing their customers the peace of mind that comes with an organization solution that secures their valuable gear. Whether that be securing your weaponry or service tools, they are dedicated to making sure items are safe, secure, accessible and most importantly, out of the wrong hands. An American-born company that combines customization, quality craftsmanship, ultimate security, and customer-service unmatched by competitors. 
Made in the USA with facilities on both the East and West to ensure quicker build turnaround times and faster delivery times nationwide.
All-Weather Line Features
---
Truck Vault's All-Weather Line In-Vehicle Security Storage Solution is the perfect model for uncovered pickups
Need a waterproof storage solution? Want to travel with complete peace of mind that your gear and equipment are not getting damaged by the elements? Then the All-Weather line is the perfect design for you. Completely sealed against dust, water, heat, and grit. The Line-X® XS310 is exteriorally sprayed on after the drawer system is built.
Protect Against Water & Grit (Waterproof) -- All-Weather products are sprayed with a thick layer of Line-X® XS310 which will protect your gear from dust, grit, and water. To test this, Truckvault has even taken fire hoses to the front of the Truckvault All-Weather storage system and not one drop got inside.
Bulb Seal & Compression Latch Sealed Drawers -- Drawer closures protect against water and grit with a rubber bulb seal.
Folding T Handle -- Weather Compression Keyed Lock
Security Features
---
Security is TruckVault's number one priority. That's why it's their mission to provide customers with incredibly secure products. No matter where you may leave your vehicle, have peace of mind knowing your gear is secured responsibly. 
Engineered & Designed to Resist Break-Ins -- With security being a number one priority, every product is designed and engineered to resist break-ins. 
Low Profile -- A low profile helps safeguard against attacks by resembling the floor of your vehicle
All-Weather Compression T Locks (for All-Weather Model Only) -- Provides added heavy-duty weather protection to safeguard your gear and equipment from the elements.
Durability & Quality Features
---
Truckvault prioritizes creating quality products with the best materials combined with superior craftsmanship. 
Made From Extremely Strong & Durable MDO -- You'll immediately feel the strength and dependability the moment you open the drawers. MDO is highly dependable for security products. A trusted material in a number of industries including home construction and concrete framework, it is no surprise that MDO is the perfect material to create strong, secure, and customizable products. 
Lightweight Build -- Strategically build from MDO makes TruckVault products tougher than metal or plastic yet lightweight enough to travel silently
Proven Fire & Heat-Resistance -- Truckvault products provide superior insulation and protection making them the superior choice over competing steel or plastic products. Perfect for protecting sensitive electronics, plastics, food, ammunition and other heat-sensitive cargo.
Protect Against Harmful Moisture/Condensation -- No more worrying about gear and equipment damage via the weather elements. Truckvault's quality security and storage system will protect your gear and equipment from damage.
Protects From Dust, Dirt, and Grit Build-Up With Tightly-Sealed Drawers -- Quality craftsmanship ensures your gear and equipment stay damage-free from the outside elements.
Heavy-Duty Drawers Able to Withstand Tremendous Weight -- How much weight can you put in your Truck Vault Security Storage System? Great question. And that's why the TruckVault team set out to test their products by shoving 300 pounds of gear into their drawers. The result? It could have probably even been able to handle more.
---
"Truckvault's products are made from strong & durable MDO. The superior choice over leading competitor's metal, steel, and plastic products"
MDO vs Steel/Metal/Plastic
Tougher yet more lightweight
Better Moisture Protection
Able to Withstand Carrying Tremendous Weight
Does Not Attract Moisture Allowing You to Store Firearms, Cameras, and other Sensitive Valuables
Silent -- No Banging or Rattling
---
How to Build Your Truckvault for All-Weather Line Pickups - 2 Drawer
---
Step 1: Choose Your Interior Carpet Colors
Step 2: Choose Your Drawer Front
Step 3: Choose Your Drawer Count & Height
Step 4: Choose Your Locks
Step 5: Choose Your Package Dividers
Step 6: Choose Pickup Length
Simple Installation
---
All TruckVault Security Storage systems can be installed in less than an hour and includes all hardware needed for the job
For example, Truckvault products arrive fully assembled except where components must be joined. However, installation is simple with pieces that can be joined with machine screws into machine receivers
Warranty
---
Trouble-free operation guarantee as long as you own your own vehicle. 
3 Year Warranty

Please Note: Due to the highly custom nature of TruckVault products, every item is custom built to order. Pricing seen is an estimate and may be subject to change depending on any special circumstances of the build. Once you place your order, we will reach out to you to finalize details. 
Don't See Your Model?
---
If you do not see what you need, no worries! Truckvault prides themselves on being able to custom build a Truckvault to fit any vehicle on the road. 
Click the link below to be taken to our TruckVault Custom Quote Form to get started on building a model that fits your exact needs:
https://topamericangarage.com/pages/truckvault-custom-quote-form