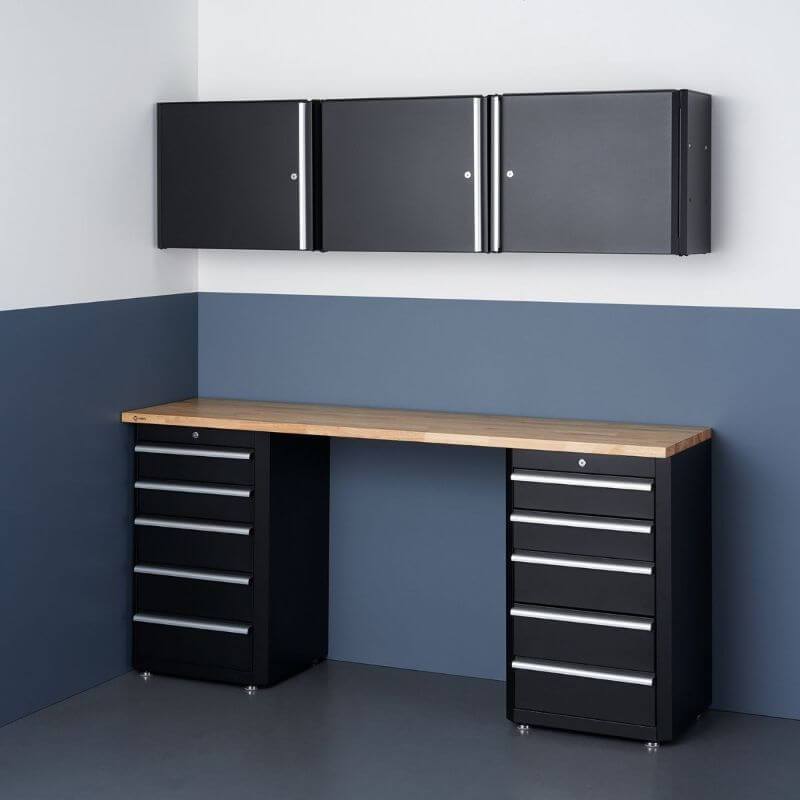 Trinity TLSPBK-0617 (6-Piece) Garage Drawer Set | Black
Usually Ships in: 1 to 3 Business Days. *ETA to USA Only
Dimensions:
72" W x 33" H x 19" D
* Estimate to the 48 Contiguous USA States Only
Product Description
Specifications
Product Warranty
Product Manual
Our Price Match Policy
Shipping & Returns Policy
Reviews
Need a garage set that includes everything you need to organize your warehouse, basement, garage or workshop? TRINITY's 6-Piece Garage Cabinet Set might be exactly what you need.
Includes in this set are 2 Base Cabinets, 3 Wall Cabinets with Drawers, a 72" Wood Top which provides a large and sturdy working surface for whatever projects you have in mind, and the following features:
Black Textured Powder Coat Finish -- To give this workbench the sleek look you will love, and to maximize strength and durability of this unit.
Durable Steel Construction -- This TRINITY 6-Piece Garage Cabinet Set Modular is made with durable steel.
Easy Assembly System -- Trinity's easy-assembly system means that you can assemble this set in less than 30 minutes as the body panels of the cabinets simply unfold into place. **Wall anchor and screws included.
24" Garage Wall Cabinets (3 Units) -- Wall Mounting Bracket + Screws Included.
Cabinet doors can be mounted to open on either left or the right side of this unit

to allow you to configure your storage unit exactly like how you want it.
50 Lbs Capacity Adjustable Shelves --

Each of the cabinet shelves has a 50 lbs weight capacity, and is vertically adjustable to allow you to configure your cabinet space exactly to your storage needs. Shelf measure 23.8"W x 9.8"D.
100 Lbs Total Load Capacity

-- In total, this unit has a 100 lbs weight capacity enough to store the tools or equipment that you need.
20" Garage Base Cabinets With Drawers (2 Units) -- Comes Fully Assembled + Wood Top Fastening Hardware Kit Included.
5 Drawers Per Cabinet --

Each of the drawers have a 50 lbs weight capacity and has enough strength to store all the tools/equipment you need. 3 of the shelves measure 16"W x 17.3"D x 5.6"H and 2 measure 16"W x 17.3"D x 4.1"H.
250 Lbs Total Load Capacity

-- In total, this unit has a 250 lbs weight capacity  enough to store the tools or equipment that you need.
High Capacity Ball Bearing Slides for Every Drawers

-- Ensures that your drawers open and close smoothly even when fully loaded.
Includes Pre-Cut Drawer Lines

-- Protect your tools and prevents scratches and wear and tear of your drawers.
Adjustable Feet Levelers

-- Ensuring that your base cabinet stays firmly planted even when your floors are uneven. After all, there is nothing worse than a wobbling cabinet!
72"W x 19"D x 1.2"H Wood Top (1" Thick Solid Rubberwood Cabinet Top) -- Equipped with a strong and sturdy worktop, and ready to help you work on your most important & heavy-duty projects.
Easy-Access Cable Management Location -- Helps you organize those pesky cables and wires to keep your cabinet area clean & clutter-free. Located at the bottom of the cabinet for easy access.
Magnetic Door Latches -- These latches ensure your cabinets remain firmly closed and gives this unit a premium feel when opening or closing.
Lockable Doors -- Comes with a centralized lock to keep all your tools and equipment safe and secure.