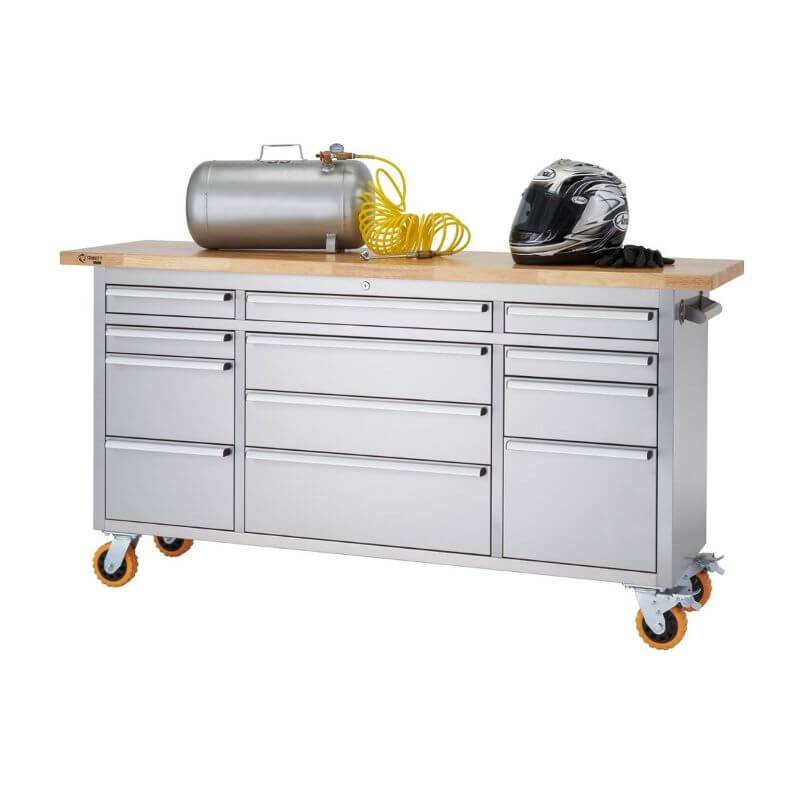 Trinity TLSF-7209 (72x19) PRO Stainless Steel Rolling Workbench
Usually Ships in: 1 to 3 Business Days. *ETA to USA Only
Dimensions:
72" W x 37" H x 19" D
* Estimate to the 48 Contiguous USA States Only
Product Description
Specifications
Product Warranty
Product Manual
Our Price Match Policy
Shipping & Returns Policy
Reviews
Looking for a high-quality workbench that not only satisfies your storage needs but also provides a sturdy work surface for your heavy-duty jobs? 
The Trinity PRO Fingerprint Resistant 72-Inch Stainless Steel Rolling Workbench may be a perfect choice for your garage, basement, or workshop needs. It is designed for professionals who value quality and remarkable craftsmanship.
Construction Overview
---
2,200 Lbs Weight Capacity for Maximum Heavy-Duty Storage -- The wheels on this workbench has a combined weight capacity of 2,200 lbs, allowing you to store all your heavy-duty items or to work on whatever projects you have in mind. 
Strong & Durable with 18-Gauge Fingerprint-Resistant Stainless Steel Frame --

To give this workbench the sleek look you will love, and to maximize strength and durability of this unit.
Heavy-Duty & High-Quality Stainless Steel

 

-- This workbench features an 18-gauge stainless steel frame. This high-quality stainless steel frame is also fingerprint resistant to ensure that your workbench maintains its sleek overtime!
Extended 1.5" Thick Solid Rubberwood Butcher Block Top For heavy-Duty Jobs

 -- Equipped with a strong and sturdy worktop, and ready to help you work on your most important & heavy-duty projects.
5" x 2" Swivel Wheels (2 Locking) to Easily Toggle Between Mobile & Stationary Mode --

 

These high-capacity casters ensure that this workbench will roll around smoothly even when fully loaded. They are also equipped with locks, allowing you to easily roll around this unit wherever you need it, or to lock it in place with just a flick.
---
Note: The worktop is also extended on both sides of this workbench by 3.75" to allow room for you to mount a vice.
---
Drawers & Cabinets Overview
---
Maximize Storage with 100 & 200 Lbs Capacity Ball-Bearing Slide Drawers (12 Drawers)

- 5 of the drawers are equipped with ball-bearing slides with 100 lbs of weight capacity, while the remaining 7 have 200 lbs of weight capacity. Store all the tools you need while being sure that your drawers are going to keep opening and closing smoothly for life!
---
The drawers come in the following dimensions:
14.625"W x 15.75"D x 2.5"H Drawers (4 Units)

26.5"W x 15.75"D x 2.5"H Drawers (1 Unit)

14.625"W x 15.75"D x 5.5"H Drawer (1 Unit) -- 200 lbs capacity

26.5"W x 15.75"D x 5.5"H Drawers (2 Unit) -- 200 lbs capacity

14.625"W x 15.75"D x 8.5"H Drawers (2 Units) -- 200 lbs capacity

26.5"W x 15.75"D x 8.5"H Drawers (1 Unit) -- 200 lbs capacity

14.625"W x 15.75"D x 11.625"H Drawer (1 Unit) -- 200 lbs capacity
---
Secure Your Tools with Center Locks for Drawers and Cabinet Doors

-- Store all your most valued tools safely and securely.
Protect Your Tools Against Scratches with Pre-Cut Drawer & Shelf Liners

-- To protect your tools and the insides of your drawers from scratches or wear and tear.
Aluminum Drawer Pulls & Stainless Steel Side Handles for Effortless Open & Close

-- To give additional strength and durability even to the small parts, and to give this unit the sleek look you'll love to have in your space.
What Other's Are Saying
---
---