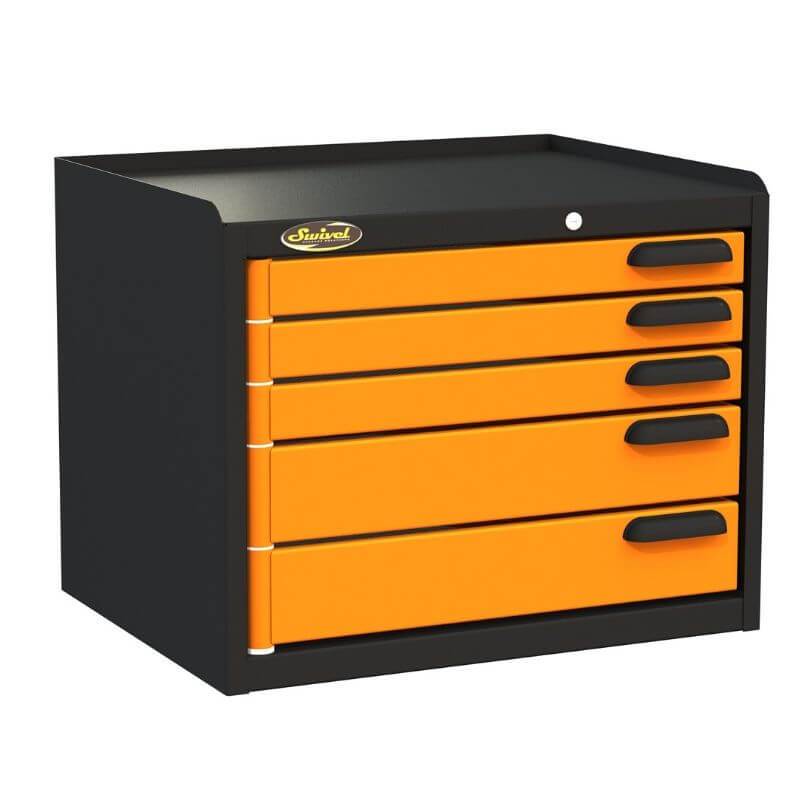 Swivel Storage Solutions PRO 22 (30 x 23 x 24 in.) Modular 5-Drawer Top Unit Benchtop Storage
Usually Ships in: 2 to 3 Days. *ETA to USA Only
Dimensions:
29.75" W x 23.0" H x 24.0" D
* Estimate to the 48 Contiguous USA States Only
Product Description
Specifications
Product Warranty
Our Price Match Policy
Shipping & Returns Policy
Reviews
Designed with durability in mind and to provide you with much needed additional storage to your workbench.
The Swivel Storage Solutions® PRO 22 Modular Series 5-Drawer Top Unit Benchtop Storage was built for maximum durability and to give you additional storage space for your tools.
WHAT MAKES IT SO DURABLE?
All Swivel Storage Solutions® products come with a swivel hinge system, which unlike the regular slide-out drawers, is free from having slides and bearings failing and getting stuck over time. 
The swivel opening and closing mechanism ensures that drawers open and close smoothly for life!
Built to Last a Lifetime

-- In addition to the swivel drawer mechanism (Described Above), the PRO 22 units are built with heavy-duty 16-gauge drawers and frame, and finished with a powder-coated paint for added durability. It also features strong, greasable hinges and casters that won't be affected by dirt and dust. 

Keep Your Tools in Good Shape

— The PRO-22 Benchtop Storage comes with anti-skid drawer mats (to prevent your tools from getting damaged during transport and storage).

Maximize Your Storage

-- Not only does the PRO 22 unit come with 5 drawers, giving you ample space to store all your tools, but you can load up each drawer with as many tools as you wish and maximize the capacity of each as the swivel style drawers ensures smooth opening and closing even when fully-loaded.

Access Your Tools Effortlessly

-- The low resistance drawers and the swivel style opening mechanism means that the drawers close easily and properly with just one hand, making it really easy for you to access your tools quickly and optimize your work.

Secure

-- All PRO 22 units come with a tamper-proof central locking system to make sure that all your tools are stored securely.
Note: You can purchase the PRO30, PRO60, PRO80 units to act as a base for the PRO22 unit for additional storage space.
KEY FEATURES & BENEFITS
Features 5 Drawers —

Features 5 Drawers ensuring that you have ample storage space for all your tools.
Durable Frames & Materials

— From the outside-in, every single aspect of the PRO 22 storage unit was designed to last you a lifetime. The PRO 22 unit was designed ONLY with materials that are not only strong, but extremely durable.

16-Gauge Frames & Drawers

— It is fully welded with 16 gauge drawers and frames to add strength, stability and durability to the entire unit.

Powder Coated Paint

— It is also finished with durable powder-coated paint to prevent rust, corrosion, or the beautiful finish of each product from degrading with use and with time.
Unique & Durable Swivel Hinge Mechanism

— The unique Swivel Hinge mechanism that comes with every Swivel Storage Solutions products ensures that your drawers will open and close smoothly for life, giving you easy access to your tools and optimizing your work. The opening and closing mechanism is so smooth that you can easily do it with just one hand!

Swivels on 1" Solid Shaft

— Means that the swivel mechanism is strong enough to maintain its performance for life, even when drawers are fully loaded and packed to the brim!

No Bushings, Bearings, or Slides

— In regular drawers, these are the parts that are prone to failing. But since the swivel system does not have any of these, your drawers will never get stuck!

Dust & Dirt Resistant

— The swivel mechanism is designed to withstand the rugged environment of a workshop. Dust, dirt, grime? No problem! The swivel drawers will always open and close smoothly despite these things.

Flat-Bottomed

— The flat bottom design of each drawer adds space that ensures smooth opening and closing. 
Secure Latches

-- Keeps the drawers firmly closed even through the abuse and vibrations of rough mobile transport.

 
Anti-Skid Drawer Lines

-- The anti-skid drawer mats avoid scratches or damages to your valuable tools while it is being stored & moved around.

 
Central Locking System

-- The secure and tamper-proof central locking system allows you to store all your most essential tools and other belongings securely
Greasable Drawer Hinges and Casters

-- Allowing you to easily maintain your unit and making sure that it will last a lifetime.