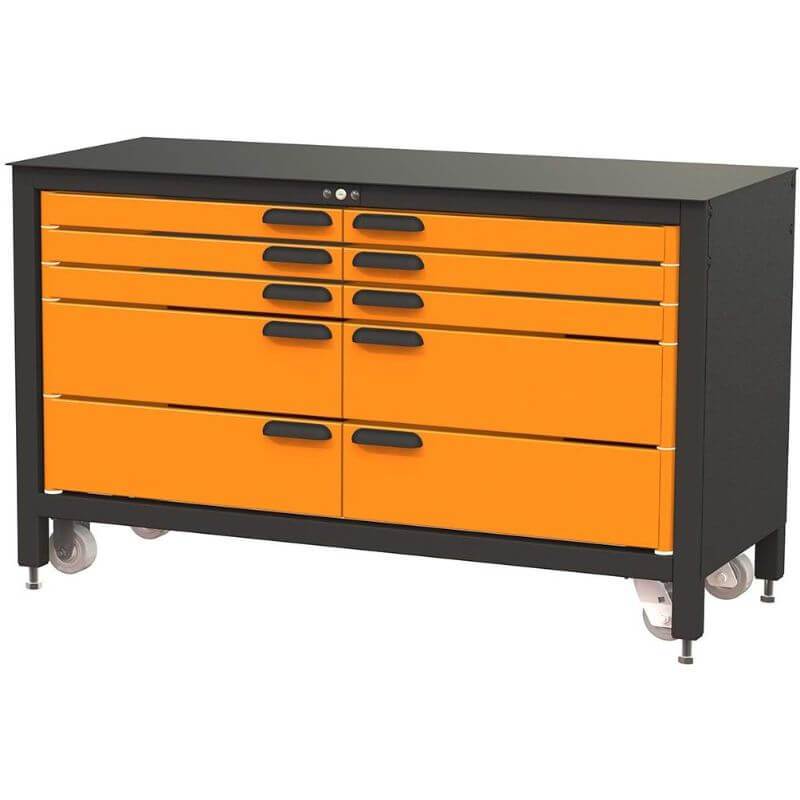 Swivel Storage Solutions MAX 60 (60 in.) 10 Drawer Rolling Cabinet
Usually Ships in: 2 to 3 Days. *ETA to USA Only
Dimensions:
59.1" W x 35.25" H x 23.5" D
* Estimate to the 48 Contiguous USA States Only
Product Description
Specifications
Product Warranty
Our Price Match Policy
Shipping & Returns Policy
Reviews
Introducing the Swivel Storage Solutions® MAX 60 Series 60-inch 10 Drawer Rolling Cabinet that was built with two things in mind -- Maximum Storage & Durability. It is truly the last workbench/toolbox you will ever need to buy.
It is truly the workbench for those that want something to carry them through the ages.
Why the Swivel Hinge System?
---
Because Traditional Slides & Bearings Wear Out Over the Years - As dust and dirt accumulate in traditional slides & bearings, Swivel Storage Solutions excel beyond the rest with a system that works against dirt ever getting in through their greasable single pivot shaft. 
Greasable 1" Single Pivot Shaft That Won't Bind or Sag - protects your drawers from wearing out. Drawers can open nicely for years and years to come
With Drawers That Can Swing Open Fully, You Will Never Have to Dig Blindly in the Back of a Drawer Again - with the unique and patented swivel hinge system, it allows you to open your drawers fully so you can get full use and access to store all of your belongings
Flat Storage Bottoms Prevents Items from Catching and Jamming on the Drawer Above - in your drawers making it always easy to open. 
Allows for Low-Resistance Opening & Closing That Makes Heavy Drawers Easily Close Every Time - With the swivel style opening mechanism, drawers open and close easily with one hand even with extremely heavy items inside. 
Can Handle Extreme Weights - the fully welded, heavy-gauge, all-steel construction makes it incredibly strong and durable

Durable Powder-Paint Finish - finished with durable powder-coated paint to prevent rust, corrosion, or the beautiful finish of each product from degrading with use and with time.
Anti-Skid Drawer Liners (Included) - avoid scratches or damages to your valuable tools while it is being stored & moved around with an anti-skid drawer line

included with your purchase.
*Note: Video Depicts the Pro 60. Thus, some mentioned features are not available for the Max 60. Click here to be directed to the Pro 60 instead.   
Additional Key Features of the Max 60 Rolling Cabinet/Workbench
---
Adjustable Leveling Feet -- Allows workbench to always be stabilized on any surface
Lock All Drawers with One Key with their Central Locking System -- Made possible by the exclusive Swivel Secure, Tamper-Proof Central locking Systems
What Others Are Saying
---
---