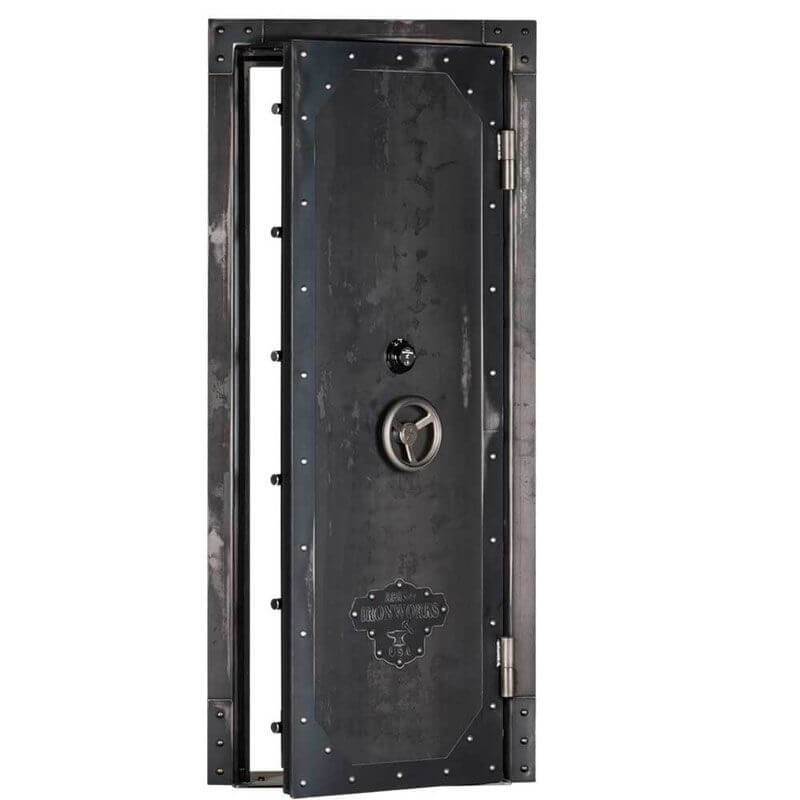 Rhino Ironworks IWVD8035 Out-Swing Vault Door | 80"H x 35"W x 8.25"D
Usually Ships in: This Model is Custom-Made to Order. Will Ship Between 12 to 14 Weeks. *ETA to USA Only
Dimensions:
80" H x 35" W x 8.25" D
* Estimate to the 48 Contiguous USA States Only
Product Description
Specifications
Product Warranty
Our Price Match Policy
Shipping & Returns Policy
Reviews
Rhino's IWVD8035 Out-Swing Vault Door are designed to not only be a piece of furniture, but as a security feature and a piece of art as well. It offers premium exterior and interior finishes and built with heavy-gauge construction that beats any other brands in the market. Check out the full list of features below:
FIRE PROTECTION
120 Minutes of Protection at 1400°F

: Making this one of the most secure and durable safes in the market. (Fire ratings can vary based on installations & room construction).

Dual Intumescent Expanding Fire Seals:

Provides maximum protection. The door seals can expand up to 7x in size when it reacts with heat, thereby sealing the door edges to keep out heat and smoke.
SECURITY FEATURES
5.39" Thick Door w/ Full Coverage ¼" Steel Face

-- This thick vault doors is pretty much impenetrable when closed and locked, providing maximum security for whatever is inside!




¼" Thick Steel Outer Door Frame

- Making it very difficult to break into the doors, which are often a weak-spot for vault doors.

Locking System Equipped With Anti-Tamper Clutch -

The clutch handle will disengage when excessive force is applied, making it impossible to pry the doors open with force.

Ball Bearing Drill Plate

- To provide additional protection to the locks.

Tempered Glass and Spring Loaded Re-Locker

- Allows you to keep your safe secure when the lock is tampered with or removed.

16 Large Anti-Punch & Anti-Drill Door Bolts (1.25" Diameter) Provides 3-Sided Protection

-- Not only do these thick door bolts add strength and security, but they are also strategically placed on 3 sides of the safe to make it impenetrable from all angles. Absolutely no weak spots!

Internal Release and Panic Room Lock-In mechanism --

You can choose to open and close your vault doors with ease, or lock it shut in case of emergencies.

UL Listed S&G Lock

- For sleek and maximum security of your vault doors. 
STYLE & FUNCTION
Clamshell Design

- Not only makes installation much simpler, but also means that it fits a variety of wall types that are 8+ inches thick.




Industrial Cast Hand Wheel & Unique Antiqued Ironworks® Finish

- Giving this safe the vintage & rustic look on the outside that you'll love to look at.

Standard/Reverse Opening Design Options

- To allow you to customize your vault doors to fit your space perfectly!

Pre-Drilled and Compatible with Rhino's Swing Out Gun Rack

- You can purchase this safe with Rhino's Swing Out Gun Rack for added storage & organization options.
**Free repair or replacement after burglary or fire.
Item color and trim may vary slightly from image.
Made in the USA with global components.