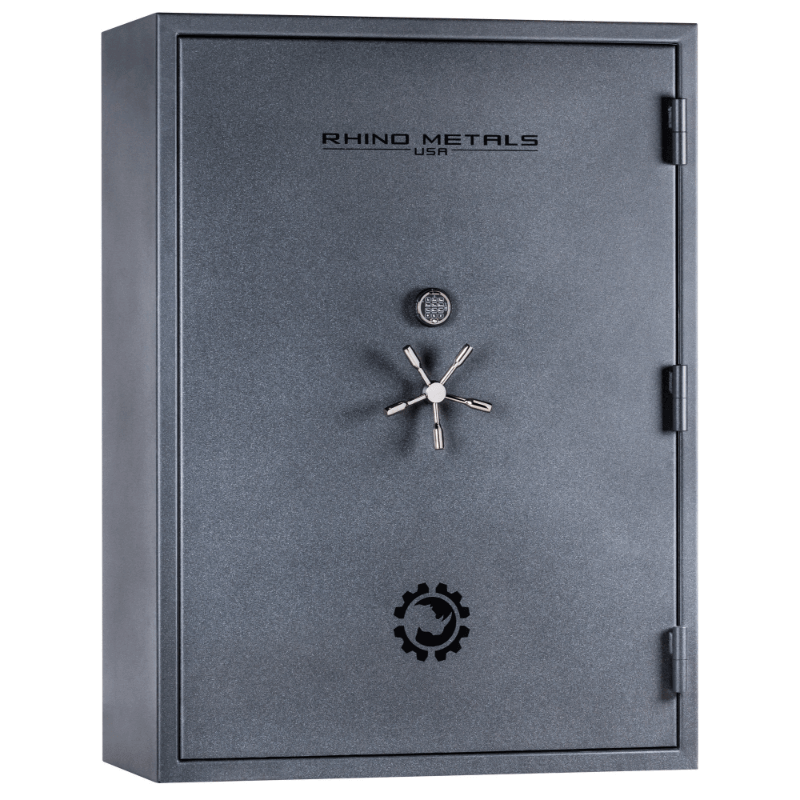 Rhino C-Series Gun Safe CX7253 | 72"H x 53"W x 27"D | 78 Long Gun | 80 Min Textured Finish
Usually Ships in: This Model is Custom-Made to Order. Will Ship Between 12 to 14 Weeks. *ETA to USA Only
Dimensions:
72" H x 53" W x 27" D
* Estimate to the 48 Contiguous USA States Only
Product Description
Specifications
Product Warranty
Our Price Match Policy
Shipping & Returns Policy
Reviews
Rhino Safes USA Series CX7253 78 Long Gun Safe | 80 Min Fire Protection with a Swing Out Gun Rack Option - is a USA made safe built with the skill and sweat of a talented team that builds the most beautiful and secure safes in the world, today. This series was built with much higher security and fireproof standards than what you can find in regular big box stores or even other leading brands. 
Not only that, but the top of the line security and fireproof standards are also paired with beautiful and luxurious craftsmanship both inside and out to make these safes part art, part furniture while sacrificing none of the security and fireproof features. 
Fire Protection Features
---
 80 Minutes of Fire Protection at 1400°F
---
80 Minute Fire-Resistance @ 1400 F -- The interior of your safe will maintain a safe temperature that will not damage your guns or other accessories even if exposed to 1400 F fire for 120 minutes. 
Fireboard Protection in Ceiling, Walls, Floor and Door -- Ensures complete fire protection. And with Rhino's External Hinge System, the door seal can expand evenly around the hinge area, therefore, avoiding the issue of contents around the hinge area exposed to heat damage.

Dual Heat-Activated

Palusol® Fire Seal

Keeps Out Heat & Smoke -- The door seal expands up to 8 times its size when exposed to heat thereby sealing the door edge to help keep out heat and smoke. 
No Hot Spots with Full Coverage Fire Lining on the Door Frame -- Unlike other safes that don't offer full protection throughout the safe especially near the hinge area, Rhino safes have full coverage fire lining to prevent hot spots (areas vulnerable to heat). Giving additional protection against heat damage.
Security Features
---
UL® Certified RSC / CA DOJ Compliant
---
UL® Listed Manual Lock with Day-Lock -- Meets UL nationally recognized standards for safety. It is free from reasonable risks of electric shock or fire. 
Certified with UL ® as a Residential Security Container (RSC) and exceeds California DOJ acceptable gun safe standards -- Meets regulatory gun safe standards to legally store firearms as a firearm safety device.
12 Gauge Fully-Welded Steel -- Built with a 12-Gauge Construction all around. This means that this safe is an absolute tank! It would be very difficult to find a stronger & more secure safe at this price point.
New SafeX® Security System revolutionary anti-pry technology -- ensures the body and door are securely interlocked together to withstand attacks
---
Watch the new revolutionary SafeX® Security System in action below
---
Ball-Bearing Drill Plate & Spring Loaded Re-Locker to Protect the Lock Against Drill Attacks -- A ball-bearing drill plate placed behind the lock makes it impossible for safe-crackers to use power tools (e.g. Drills) to destroy the lock and break into this safe.
---
Ball-Bearing drill plates provide much more protection than simple steel plates (commonly used in other safes) as the power tools will usually melt & get destroyed before breaking through a ball-bearing drill plate.
---
Spring Loaded Re-locker Ensures Safe Will Remain Secure During an Attack -- If a breach to the locks were to happen, it will cause the re-locker to activate, locking the safe, and preventing the door from being opened.
Anti-Tamper Clutch Handle (Patented F-4 Locking System) Protects Against Attacks Using Excessive Force -- If excessive force is applied to the handle, the clutch system will disengage and the doors will remain locked adding to the security of your safe.
Secure to the floor (Hardware Included) -- To make bolting down your safe easy

Storage Features
---
Holds Up To 78 Long Guns
External Dimensions: 72"H x 53"W x 25"D (Not Including Handle)
1180 Lbs. Approximate Net Weight
---
New Rhino VECTOR™ INTERIOR - allows rapid optimization of space with ultra flexibility via fully adjustable inserts
New Rifle Rods Kit

 

INCLUDED

-- to maximize firearms storage
Keep Electronics Charged While in the Safe with An Internal Electrical Outlet with USB Ports -- Rhino Safes left no stone unturned by providing its users to charge their electronic devices while stored securely in their safes.
Deluxe Door Organizer Keeps Handguns, Ammo, and other Smaller Accessories Organized -- Rhino Safes Come With A Deluxe Door Organizer giving you extra ways to organize your belongings.
External Hinges Allows Easier and Faster Access to Your Valuables with Doors that Open a Full 180 Degrees -- With Rhino Safes' Unique External Hinge Design, you will be able to open your safe's door a full 180 degrees making it very easy and fast to access whatever you need.
Organize & Have Easy Access to Your Long-Guns/Rifles with Scratch-Proof Swing Out Gun Rack System -- The gun rack that fits this safe has padded butt and barrel rests to prevent scratches or damages to your guns. It is also designed to be the most efficient way to store your guns and allows you to retrieve your guns without removing other ones.
EMP-Resistant Locks Options -- Rhino has partnered up with the top lock manufacturers to (e.g. S&G, SecuRam) to provide you a wide array of EMP-Resistant manual combination or electronic locks
Design & Style Features
---
5-Spoke Vault Style Wheel -- This gorgeous wheel makes sure your safe is easy to open.
Fully Upholstered Interiors -- A distressed leatherette gives a lavish interior look while also protecting your guns and belongings.
Residential Limited Lifetime Warranty
---
Limited Lifetime Warranty
Free repair or replacement in the event of an attempted or actual burglary attack
Free repair or replacement in the event of a fire
What Others Are Saying About Rhino Metal Products
---
---