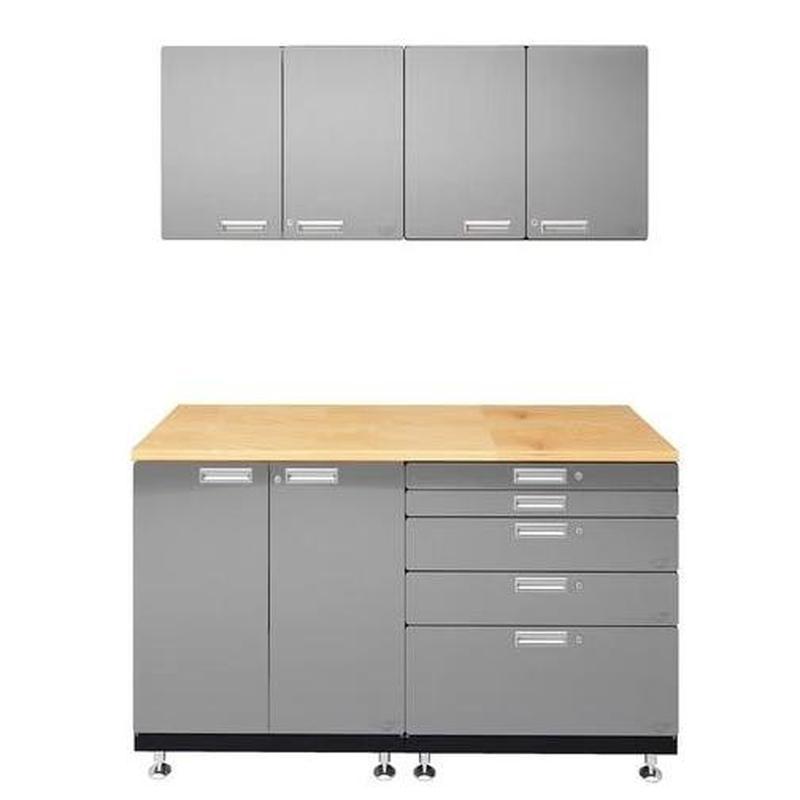 Hercke Kit 4-S72 (24"D x 60"W x 84"H) Basic Work Center Garage Cabinet System
Usually Ships in: 5 to 10 Days. *ETA to USA Only
Dimensions:
24"D x 60"W x 84"H
* Estimate to the 48 Contiguous USA States Only
Product Description
Specifications
Product Warranty
Product Manual
Our Price Match Policy
Shipping & Returns Policy
Reviews
This Hercke Basic Work Center Modular Garage Cabinet System (HC-Kit 4-S72) comes with 5 pieces that offers complete versatility with its customizable and modular cabinet system units. Its modular nature allows you to rearrange, reconfigure or divide your Hercke Basic Work Center Modular Garage Cabinet System.
What sets the Hercke cabinets apart is its focus on combining superior quality, style, and function into a cabinet system that is a perfect solution for anyone. Whether it be storing tools, hobby equipment, outdoor gear, or gardening supplies...the Hercke Basic Work Center Modular Garage Cabinet System is the perfect solution.
Key Features
Customizable, Modular Cabinet System

-- making this garage cabinet system versatile for any space. Reconfigure, rearrange, divide, or expand. The choice is up to you.
Heavy-Duty 18-Gauge Steel Door & Casing

-- Giving this kit maximum durability & strength. No need to worry about this cabinet system breaking down on you. With its 18-Gauge Steel on both the door and the casing, you can definitely store those heavy-duty items in here as well.
Soft-Close Ball Bearing Slides

-- Have your cabinet drawers close smoothly and quietly every time.
1.25" Thick Maple Wood Worktops (Made in the USA)

-- giving you a sturdy workplace for all your projects.
Adjustable Self-Leveling Platforms

-- allowing you to configure your cabinets on uneven grounds

European-Style Frameless Door Hinges

-- This modern-day high-tech hinge compliments the frame-less nature of the Hercke Cabinet Kit Systems. By utilizing a frameless box, ease of access and storage space is increased while also adding more stability. Not to mention it adds a sleekness that characterizes Hercke Cabinets.
Matching Locks Throughout

- Making this system secure.
Comes in 2 Options

-- Stainless Steel or Powder-Coated Finish
Sleek & Stylish Design

-- The Hercke Garage Cabinet Systems is definitely one of the few sleek and stylish Modular Organization Units on the market today. We love how it comes in both stainless-steel or a powder-coat finish so the cabinet system can aesthetically fit in perfectly with any garage.
Easy DIY Assembly

-- making it completely do-able to assemble yourself. See product manuals below for further instructions if necessary.
Cabinets are Bolted together

-- adding to extra security and safety.
Package Includes
2x Adjustable Stationary Platforms
2x Hercke 6" Solo Drawer Unit
2x Hercke 24" Overhead Wall Cabinet
2x Hercke Wall Mount System
1x Hercke 12" Solo Drawer Unit
1x Hercke 30" Lower Storage Cabinet
1x Hercke Dual 3" Storage Drawer Unit
1x Hercke 60" Maple Worktop